Group Bible-based Grand Canyon Rim Tour with Russ Miller
We will have a luxury bus pick up your group in Phoenix or Flagstaff, AZ. You will then travel to Grand Canyon as both Russ and CESM DVDs supply incredible information on the rapid formation of the chasm and the overwhelming evidences of the biblical global flood.
At the Canyon you will be shown original CREATION rock and Judgment layers which were laid down during the flood. As Russ explains the geology he will also point out the relevance of the Grand Canyon to the authority of God's Word.

And there are the mile deep layers of sediments which have been removed from above the Canyon's rim! Those with a Secular worldview do not tell you about this, do they?! Proof is seen in the photo above as Russ delivers his On-The-Rim-Talk.
Your group will have an optional 2.7 mile hike along the Canyon's southern rim as you enjoy the scenic wonders of Grand Canyon.
This eye-opening and faith-building Christian adventure includes the luxury bus, professional driver, entrance fee to Grand Canyon, snacks, bottled water, Russ' awesome information, and more.  Our Group Rate is a flat fee of $3,995  with 10% down at time of booking and the balance due 30 days prior to the trip. This gives you 53 seats on a luxury bus and, if you book well in advance, you'll have plenty of time to sell your tickets.
This is an absolutely awesome & affordable Christian tour.  See our brief Tour Video and book a trip today!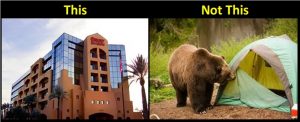 Email: Joanna@CreationMinistries.Org for more information.
Grand Canyon for Small Groups, Families & Individuals
For small groups and families the cost of a luxury bus may not add up so we suggest you order our DVD Set & Russ' book, THE COSt prior to your trip.
In these resources Russ reveals fact after fact in support of God's Word & undeniable proof of the mile deep layers of strata which have been removed from above the rim of Grand Canyon (explaining how this reveals the complete authority of God's Word).
Email us for more details: Joanna@CreationMinistries.Org
"It was impossible to stand at the rim of Grand Canyon and not be overwhelmed with the grandeur. However, realizing I was not viewing God's creative handiwork but rather a scar left from His judgment, made the experience all the more meaningful. To see the evidence of the Genesis flood displayed not only on the canyon walls, but also in the surrounding landscape, was life changing. My faith has deepened. My appreciation for the accuracy of God's Word has grown. The ministry of Russ Miller made the experience what it was. This was a spiritual blessing!" Pastor Chris Dyer
Book a trip now or join an existing tour where seats are available!
Email: Joanna@CreationMinistries.Org for more information